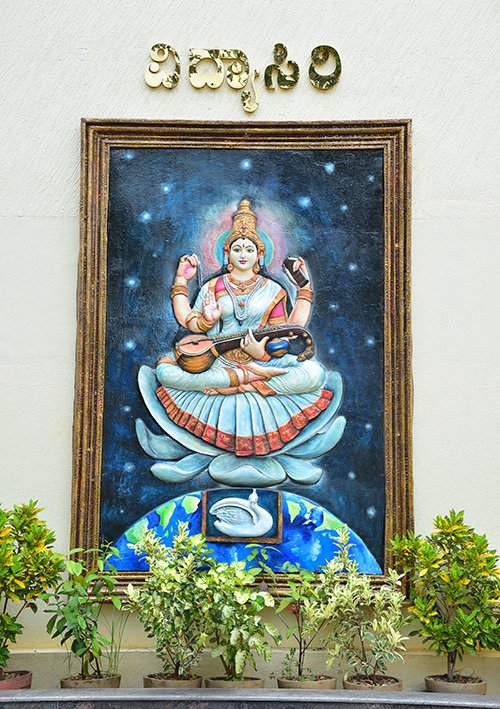 Established in 2005, Sri Ramanuja Seva Trust® is guided by the commitment to excellence, under blessings of Sri Yadhugiri Yathiraja Narayana Ramanuja Jeeyar, Sri Yadhugiri Yathiraja Mutt, Melukote.

The name "Acharya Guruparmpara" is synonymous with nurturing characters of each child by honing skills with proper training by our teachers. AGPV is situated at Dasanapura and our school has very good infrastructure with all amenities required for the students in their learning. AGPV has grown to great heights by imparting value based and knowledge oriented education to children and it emphasis on child centered value based thematic education system which adds to the learning of a child.

The function of Education is to teach one to think intensely and to think critically.  Intelligence and character formation are the goal of true education.  Education is also the creation of a sound mind in a sound body.  With this objective in our mind, we started the school where we are determined to impart high quality education with minimum financial burden to the parents. AGPV is to create an ambience in which each student is nurtured like a sapling - making him intellectually sound, academically brilliant, and ethically moral and above all giving him a stimulating holistic environment. Our prime motive is to accomplish the prime endeavour of serving the society on the economic, pedagogic, social and  organizational front. We want our students to be omnipotent in all areas of expertise and we pledge to inculcate core values of discipline, respect and tolerance in each one.

Our school is a temple of learning where myriad lamps are lit in the minds and hearts of children. Their intellect is shaped and sharpened while values are nourished and strengthened. It is only the teacher who sparks and nurtures these little lights making them grow and glow brighter with time. I am proud to say we have a talented and dedicated teaching staff and equally efficient administrative personnel. Their combined and continuous efforts make AGPV a truly world-class school, as acknowledged by many a parent. Our curriculum is designed to guide each child to grow to their full potential, ensuring both left and right brain development. We are also among the first to introduce progressive trends in teaching. And we remain committed to the overall development of the child, while setting high benchmarks in imparting education.

AGPV aims at transforming young ones to be morally accepted intellectually advanced culturally refined and spiritually solid. True education is directed towards the development of personality, in view of the ultimate end of man, we work towards the spiritual and temporal betterment of the families and society and even nation through education. AGPV believe that education is the movement from darkness to light, where parents, children, teachers and educational institutions should go hand in hand.